Happy Thanksgiving weekend Marci!
Diem and I just wanted to share some photos of her first week home, and give you a little update!
She has only had two accidents in the house during the day time, and is doing really well understanding that grass means potty time! As soon as her paws touch our yard, she's looking for a spot to get the job done and it doesn't take long at all.
Most of our day consists of sleeping in the big fluffy bed at the salon. Clients have LOVED to meet her, and she's getting lots of gentle pets during those long naps at work!
"Duckie," is the favourite toy – for both snuggling up to, and trying to murder in cold blood lol. Her growls are like the "coo" of a pigeon, which is really hilarious when she thinks she's being a tough girl!
Here's some photos… The one with the pink and yellow bow is "Diem's First Day of Work," and we've even taken our first selfie together when she's tried to sleep on my face 😂
Have a great weekend Marci
She loves to play in the dirt but we love the heck outta her❤️🖤 She goes everywhere with my son and sleeps with him every night🙌💜Thank you Kelsey in USA for the beautiful picture.
Y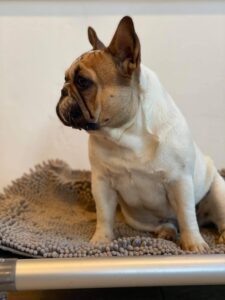 Hi Marci!
I'm a big procrastinator but I still keep my promises!
Please feel free to use all or if you wish only some of this review on your website!
I'm going to text you some photos of Brooklyn – she's doing amazingly well.  We are endlessly in love.  Quite frankly, I wish I could quit my job and Brooklyn my days away ahahaha
Hope you and your family – fur and otherwise – are good. 🙂
I am not an online review person usually, but I have to write one for Northernbullyes.  After all, the positive reviews were what drew me in to begin with.  And if I never committed, I'd never have amazing, stellar Brooklyn Estelle.
I'm a careful researcher, and a lifelong dog mommy.  It took me 3.5yrs after my English bully passed to finally adopt Brooklyn.  Part of it was waiting for the right time, and for a girl puppy.  Marci was patient, and to her word.  I gave her the notice she asked for, and she honoured her commitment to give my husband and I first pick of the litter.  Which mattered in this case, because Brooklyn was the only girl of the litter, born at a time that worked perfect for us.
I can't recommend Northernbullyes enough.  Brooklyn is completely healthy, and as someone who has raised 4 other wonderful puppies I can say with certainty that Brooklyn the best inherent temperament of all my dogs!  She is happy, content, cuddly beyond belief and even shows empathy!  A large portion of this I don't doubt is due to the care, concern and nurturing provided by Marci and her family.  These puppies are raised in a warm and thoughtful environment, and socialized well.  The day I picked up Brooklyn I couldn't stop noticing how "accepting" she was.  Redirected? Not allowed to do something?  Having to wait a second?  No problem, she accepted everything and took it all in stride… not common for a 9wk old puppy!  Zero anxiety noted from day one.  Not jumpy, not skittish, not fearful.  Immediately – on the spot – bonded with every human she came in contact with.  Happiest in my arms, but happy everywhere.  I have loved all my dogs but this puppy is truly one I have dreamed of having my whole life.
I should also mention Marci has an arrangement where her puppies would sleep/hang out together (indoors and outdoors) in a crate which was attached to a play pen.  The pen is where the puppies would walk into to do their business.  After our babe cried too hard in her crate alone (the only fuss she's ever made) we mimicked the environment Marci provided.  Back to being "accepting Brooklyn"; she slept the night and had no issue when put in her pen.  She'd go right into her crate willingly to sleep!  Puppy parents spend weeks and months trying to get this right!  My only regret is I didn't do this from day one – it took me two weeks to recall what Marci did and to sort out!  My bad.
Brooklyn also came knowing there is a place to pee and poo.  Yep.  You heard it right.  From day one she did not pee or poo on our floor; she has always gone to the pee pad.
I could go on and on, but you get the picture.  If you want a happy, already partially trained, well behaved and healthy French bulldog from an honest and ethical breeder look no further.  Thank you Marci, for everything!
Sent from my iPad
Hi Marci,
Here is a picture of JoJo.
She is awesome!!! I'm so in love with her❤️
She has such a serious looking face but she is the biggest goofball and is so funny.
Welcome to our French bulldog testimonials page .These are beautiful French bulldog puppies born here that are loved by so many families. Thank you all for the kind words ❤️
Beautiful update of Dynah  , she lives with a wonderful family in USA . Thank you Joe for the lovely picture .
Picked up my gorgeous Lyric today from Marci  I am in awe over how perfect in structure and personality this girl is. LOVE her. Thank Marci, it was so nice visiting with you today. I can't begin to tell you how appreciative I am.
Jeannette in Usa
So- I happened to bring something special back from Niagara Falls with me. I found her at the end of the 🌈. She is spunky and sweet, her pedigree and structure are absolutely divine. A huge thank you to Marci for our stunning new addition- NorthenBullies Dark Side of the Moon, aka Raven. ❤️🇨🇦🍾
Dannine is Usa ( second French bulldog from us )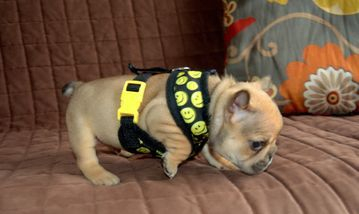 Hi Marci,
Well, he has a name…Earl (it was Marc's grandfather's name, so puppy's full name is Earl LaPerle, I giggle every time I say it 🙂
Earl's an absolute darling!!! He's so healthy, happy and my goodness he's sooooooo affectionate (he's a cuddle monster!!) we'rs completely in love with him.
Training is going very well, he knew his name by the second day, and he almost knows 'sit', …he's so smart, and yes I'm starting to understand the 'bulldog' personality he's soooooo funny, very strong for 4 pounds, and he's full of beans.
We're so happy we found you Marci, it's obvious that you gave him lots of love because he's so well adjusted. Thank you, thank you xoxoxo  We hope everything went well with your car, and that you had a good week.  We'll send pictures soon.
Tracy, Marc & Earl
PS I wanted to thank you again for the early pick up, we had a special day with family yesterday and I'm so very grateful for that
Owned now by Penny and her husband both vet tech's 2014
I wanted to thank you personally for such an amazing puppy!! She has been a perfect addition to our family and we adore her so much already in the short period of time we've had her!!! Thank you so much!
The Contois Family
So happy with our new baby, he is amazing in every way. Can't thank you enough 
Marci
 for let me owner this special boy! "StarSeed" aka Simba Welcome home
FEB 2015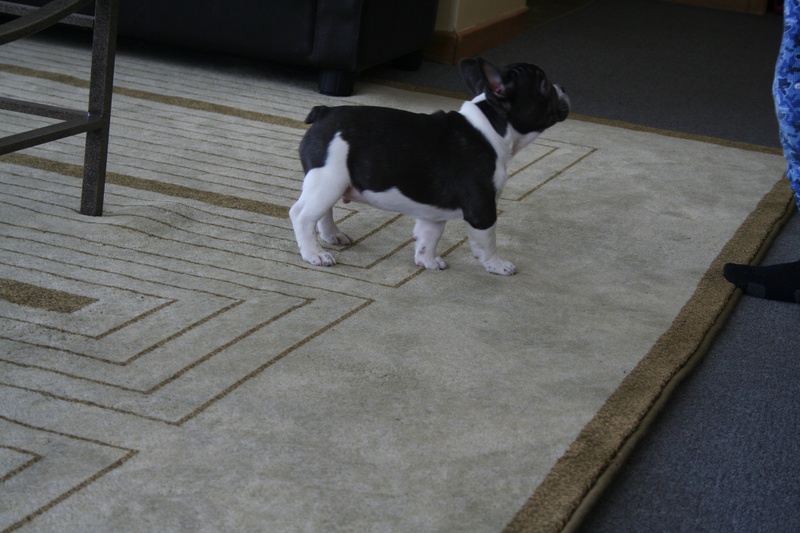 He is a dream come true.Him and Arlo play lots and get tuckered out.
-Jonathan
We have always wanted a french bulldog,we live in vancouver and our experience was just great,the puppy came so clean with nails trimed,our vet examined the puppy and got a clean bill of health,thank you very much.
MARCELA!!!OMG !I am in love with her!She is so stinkin` cute and petite!Thanks for this smooth transaction.I am beyond happy with her!
Marcela,I tell you in all sincerity and you know I experienced and treasure and enjoy many of my own dogs from some of the finest bllodlines …OK …so now I will tell you : BELLA is a TRUE TREASURE ! Not only in her personality and disposition now one of my favorites,but she is a true beauty .My show friend came for a visit today ,saw her ,and said "now THAT'S a show dog! "
Kerry.
Hi Marcela,
We just wanted you to know that everything went smoothly and we have
Rocky! We are in LOVE!!! He is just stunning and has the sweetest
personality! We couldn't be happier! Thank you for making it such a
pleasant experience – you were wonderful to work with and we know where
to look when we need additional lines in the future. We will keep you
updated with pictures and Rocky's progress .
Thanks so much again Marcela!
Lacey, Donna and Rocky (:
Hi Marci, Caniche is doing so well. We woke up at 6:00 AM. and she was quietly playing with her toys in the crate. Not a sound all night. We have been keeping her on a potty schedule and she is doing great. Today- it was snowing and bitterly cold therefore we used a pee pad instead and she adapted. What a good girl! We hope all is well with you and that Bella and Ruby and yourself have some time to take a breath although with family and children and a house sometimes resting is a dream Please take care. Rhonda and Scott